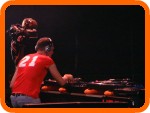 freefloat at dance valley


What a huge success!

The introduction of the Freefloat at Dance Valley was just simply fantastic.
We had great response from most of the DJ's that used the Freefloat, one of the highlights for the Freefloat team was Carl Cox using the Freefloat for the first time.

Our DJ Headquarters was a bit hard to locate but still most of the DJ's found it, and had a great time with us. Especially the food catered by "de kookvogels" was very good, thank you guys!

Last but not least a very warm thank you to UDC for making this all posible!"