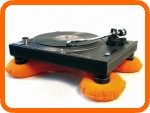 we're proud to present...


the Music Factory Entertainment Group a leading UK music and brand owner and distributor have been appointed by Freefloat to handle the exclusive distribution of the product in the UK.

Through its various channels Music Factory has relationships with many key equipment retailers and record shops.

Music Factory will be launching the Freefloat product in the UK as part of its stand at Plasa 2003 and taking advance orders for delivery mid Sept 2003.

Commenting on the partnership in the UK Richard Skaife Director of Brand Development said " We came across the Freefloat product at Dance Valley and could immediately see the benefit to the DJ market at all levels , we are very excited about bringing Freefloat to the UK

Music Factory currently own one of the UK's leading Dance Brands, tidy plus the UK's biggest DJ only service Mastermix they also have the exclusive distribution deal for Reloop(Germany ) in the UK.